Herbivore Botanicals: Review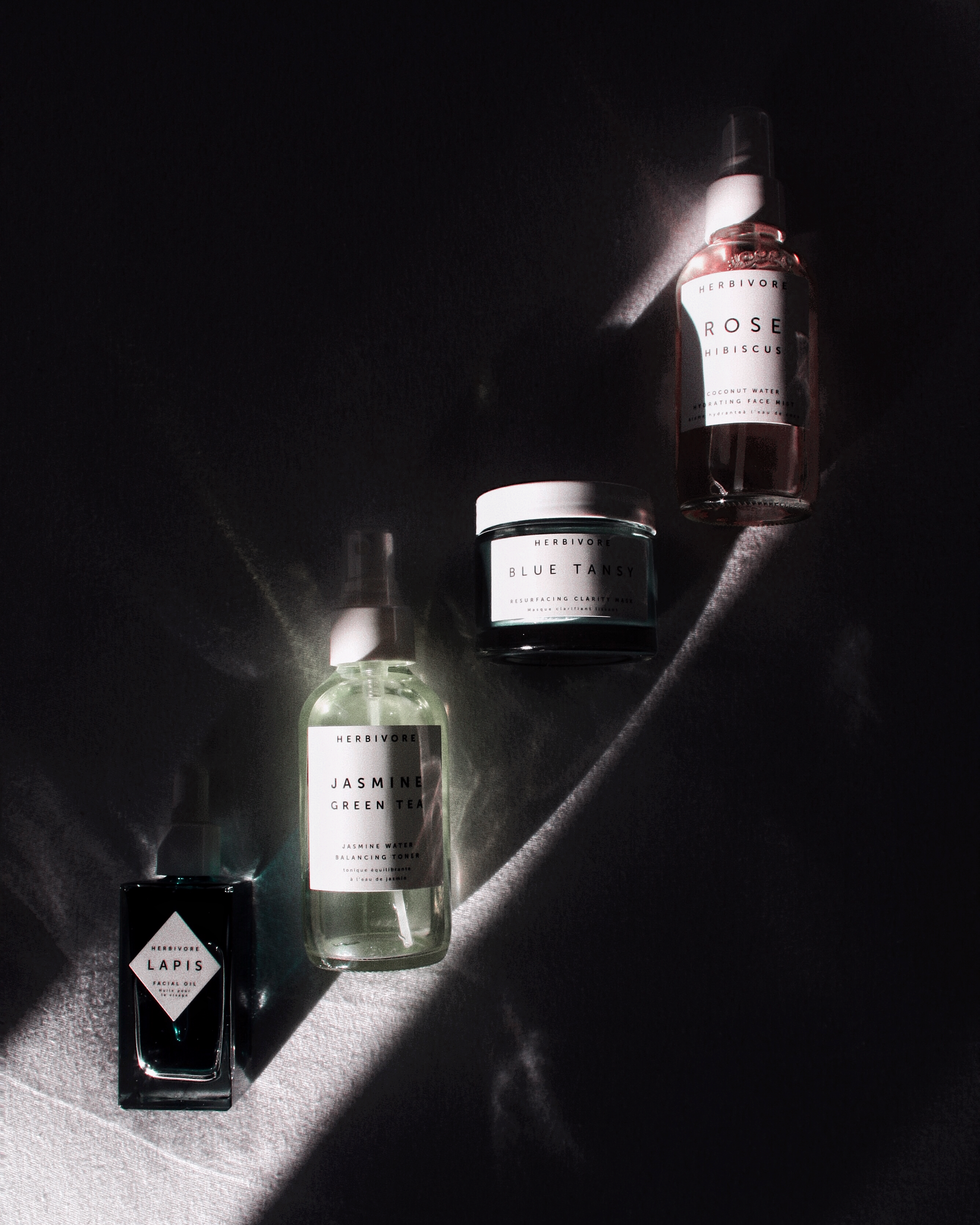 I'm here today with a review of a few products that were kindly sent over by Herbivore Botanicals. This post will cover their Jasmine Green Tea balancing toner, Rose Hibiscus hydrating mist, Blue Tansy mask and Lapis facial oil. Let me just start by saying I have quickly fallen in love with Herbivore Botanicals! This was the first time I've ever tried any of their products, but they definitely live up to the hype. From their glass packaging to their non-toxic formulas, what's not to love? All of their products are made with high quality and organic ingredients so you won't find any mysterious chemical that you can't even pronounce in the ingredients list.
Jasmine Green Tea Balancing Toner
After my first use of this balancing toner, I was hooked! It's very soothing and gentle. I have to say that this may be my favorite toner, ever. And I've tried tons of toners! The one thing I hate the most about some toners is that they sting and/or contain alcohol. That stinging usually leads to dryness, which is the complete opposite of what I want my toner to do! This toner soothes your skin with the mixture of aloe vera and jasmine water, keeping it hydrated. The reason it's called a "balancing" toner is because of the other ingredients and what skin concerns they combat. In addition to aloe vera and jasmine water is green tea extract, white willow bark and witch hazel (which you might find in a lot of other toners as well). Green tea is a known antioxidant, while white willow bark is a source of salicylic acid, an acid that prevents break outs and one that I always have around!
Rose Hibiscus Hydrating Face Mist
Now this mist is also like a toner, it contains witch hazel, coconut water, aloe vera, rose and hibiscus flower. If your skin type is dry, or if you just need a little boost of hydration, I really suggest this one. It feels similar to the Jasmine Green Tea toner, in the way that it is gentle and leaves you with a fresh feeling rather than a tight and dry one. Rose, hibiscus, coconut water and aloe vera are all hydrating components that also have individual qualities such as reducing inflammation and redness.
The Blue Tansy mask resurfaces and clarifies. When I first applied this mask I was a little surprised at the texture. It's unlike most masks I've used because of the gel texture. I actually found that I prefer a mask like this because clay masks tend to really dry out my skin. This mask has blue tansy oil (hence the name lol) which soothes the skin and reduces redness. It also is what gives the mask its gorgeous color! It's really easy to apply and isn't a messy process! I've found that regular use of this mask (twice a week) with the Lapis oil has really helped my skin to prevent breaking out.
As I mentioned before, I love to use the Lapis oil after washing off the Blue Tansy mask! Both the oil and the mask contain blue tansy. My skin loves this oil. It's not one to linger on top of your skin with a super greasy feeling. It absorbs quickly and is a thinner consistency. I knew I would love Lapis because I've tried Sunday Riley's Luna Sleeping Oil which also has blue tansy. That was one of my favorite oils, until I dropped and shattered the bottle (cries). My bathroom floor must've loved it. That being said, be careful with the beautiful glass packaging of any product!!! I would definitely repurchase the Lapis oil over the Luna oil just because it is more affordable and they have similar qualities (minus the retinol from the Luna oil). Sunday Riley's oil is $105 for a 1oz bottle while Herbivore's is $72 for a 1.7oz bottle. You do the math.
See you next week!
-Dax